Over a period of 6 months, our organisation carried out 7 cultural events
as part of Poznawaj project.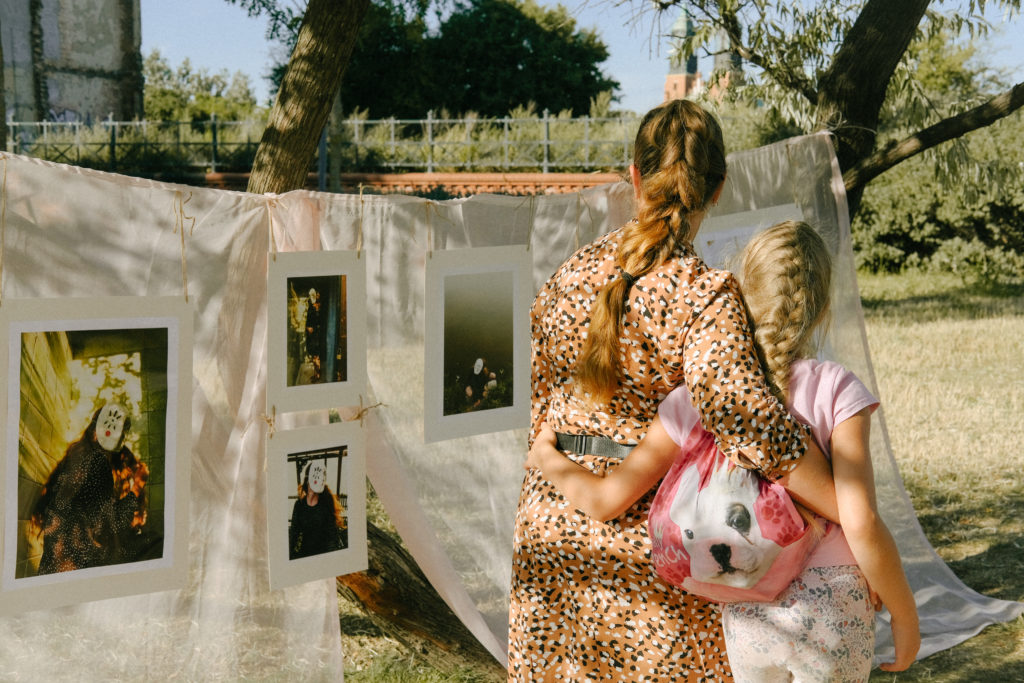 Photo exhibition "My Home" and "Cloudess" concert. July 2022
This Sunday guests of our event had a wonderful opportunity to immerse themselves in everyday life in the Ukrainian countryside at the performance "My Home" (Mii Dim) by photographer Angelina Storozhenko сurated by Lisa Kesauri. The exhibition is assembled from photographs showing the author's beloved places full of memories and picturesque nature. Photos were fixed on the transparent white fabric between trees that moved in the wind and let the sun's rays through.
Afterwards people listened to the concert of the band Cloudless, participants of the Ukrainian national selection for Eurovision, together with Inna Kucher. The band Cloudless organized a Eurotour to support Ukraine. More than 100 people were sitting in the amphitheater and singing along to familiar songs and danced.
You can find more photos from event here: shorturl.at/klr58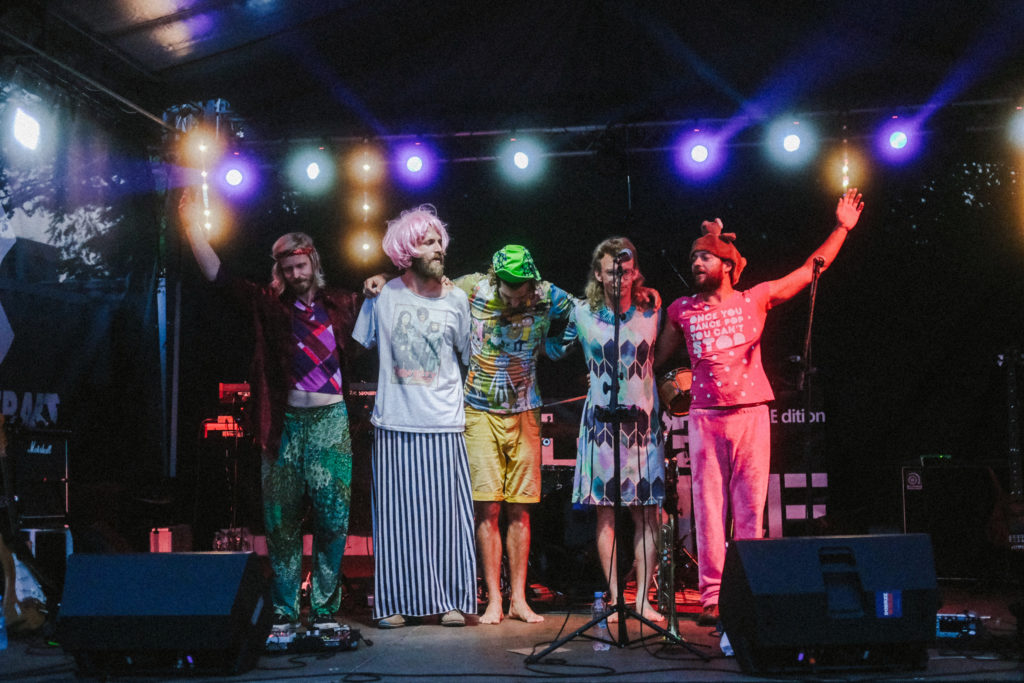 DIRTY FEETZ concert. August 2022 
On 27th of August, at a Kontener Art venue, we had an amazing and energizing concert of German band Dirty Feetz, which combines styles of rock, funk, country, classical and calypso in their songs.
The band were inviting people to sing and improvise with them. It was a very fun activity not only for kids but also for adults, so everyone had a lot of fun. During the concert people were able to immerse themselves into a music that tells surreal stories from life and see a show full of energy, drive and bright costumes. Dirty feetz band love making music for people and making them dance.

You can find more photos from event here: shorturl.at/dmtJ5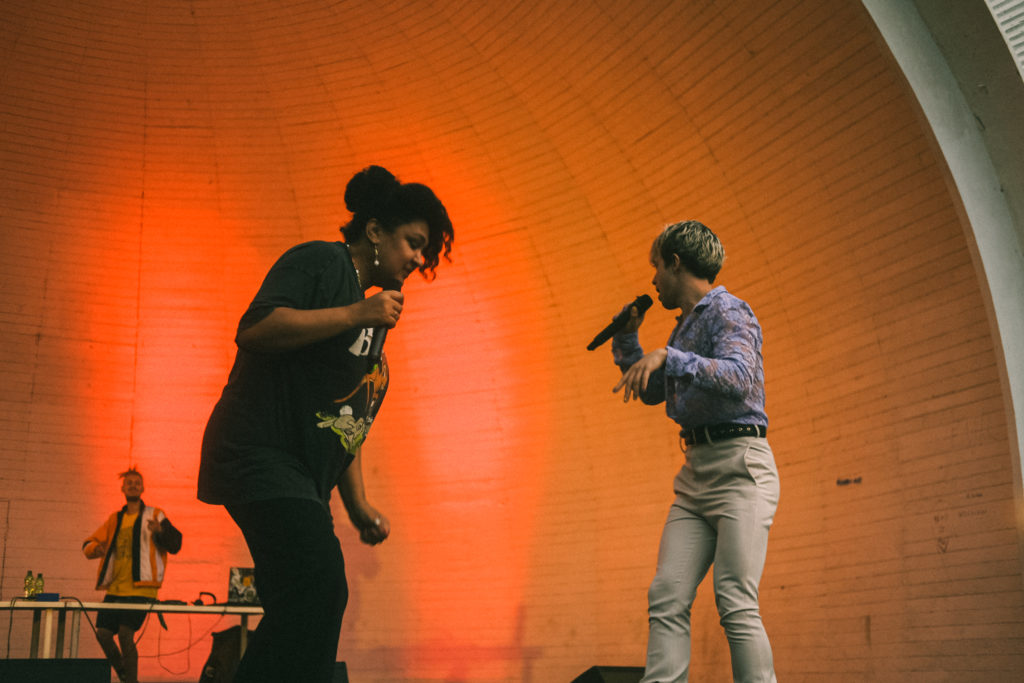 One-day festival "POZNAWAJ". September 2022 
On 10th of September, at Park Wilsona we organized city festival "Poznawaj". Festival consist from concert, charity art-market, exhibition and workshops.
For the concert performed DJ's from Ukraine and Belarus and music bands: Domsun (Belarus), Grande Picollo (Poland) and Elektromed (Ukraine).
There were two workshops facilitated by Ukrainian refugees: how to deal with stress and dance improvisation. Also, four invited NGO's with Logos provided creative and psychological workshops for children and adults. Atmosphere there was filled with positive and citizens of Poznań of different age and nations said how comfortable they feel and happy to see such an event in this location.
Exhibition "New reality" was dedicated to life after war and Ukrainian's perception to it. On art-market you could see artworks of artists from Ukraine, Belarus and Poland.
On a following link you can listen a Live Set that was recorded by the artist Original.Vladman on the festival day: shorturl.at/xNR06
You can find more photos from event here: shorturl.at/afpDT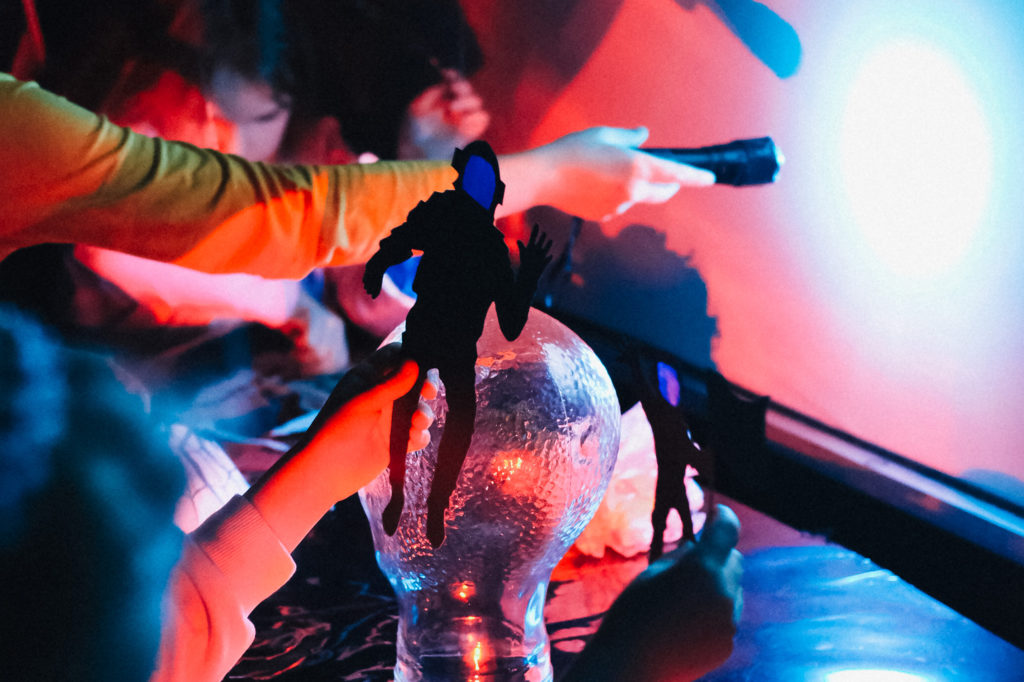 Shadow theatre "Fatamorgana". October 2022

Kids were plunged into a fairy tale, thanks to the performance of Fatamorgana. Adults and children were surprised by the magic of the shadow theater, but the greatest magic awaited them after the performance behind the scenes. The actors showed how they create beauty from absolutely simple objects.
The interpretation of the content depends on the viewer's imagination. The performance touches on the theme of the relationship between nature and culture, the relationship between the natural environment and the presence of man in the world. Indirectly, the performance also touches on topics related to ecology, draws the viewer's attention to the beauty of the natural world, and calls for questions of creativity and creativity.
The choice of means of expression makes the play accessible to viewers of all ages. There were 2 performances 15:00 and 17:00 for 70 viewers each. After the performance guests had opportunity to discover behind the scenes and the materials they use for different effects.
You can find more photos from event here: shorturl.at/FQRU5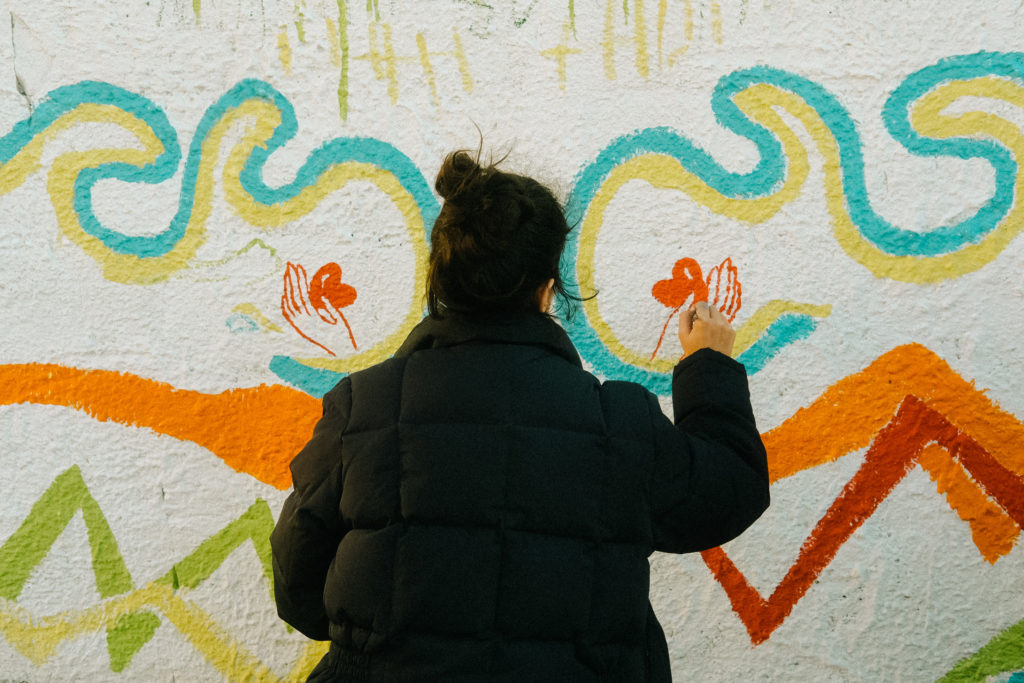 Co-creating Remedies. Creation of the collaborative mural. November 2022
This collective mural is titled "Co-creating Remedies". It was created together with participants from various backgrounds and ages, together with the Spanish artist Seila Fernández Arconada and the polish artist Krzysztof Gruszczyński in November 2022. The mural is located in the Wiktor Dega primary school number 78 (​ul. Żonkilowa 34. 60-175 Poznań, Poland).
On the 6th of November was a day of a collaborative mural creation, the invitation for participation was out loud and people from different ages and background came to Wiktor Dega primary school #78 to contribute with their creative inputs.

The design of the mural was created during four workshops "Co-creating Remedies" facilitated by Spanish artist Seila Fernandez where participants draw their emotions and shared about things and activities that recharge them in an emotional way. Through art they also get to know each other closer and build a connection with each other.

You can find more photos from event here: shorturl.at/rsJL8, shorturl.at/oszHP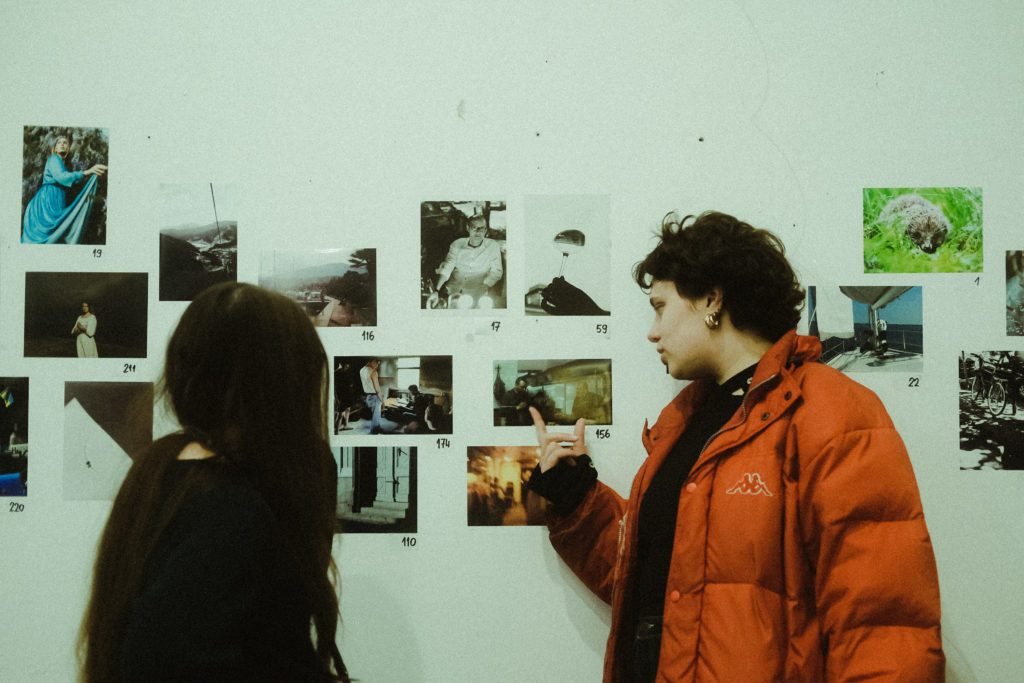 Festival of one photo. December 2022 – January 2023
On the 19th of December there was an opening of the exhibition "Festival of one photo" in  Łazęga Poznańska gallery. The main concept of this exhibition is that everyone who wants can bring one photo that the public will see on the exhibition. During the month there was  public voting and three winners got special prizes, other participants got certificates of their participation.
Our main goal was to collect 100 photos from Ukraine and to give people an opportunity to show their works and stories and share it with society abroad. We collected 140 pictures from Ukrainians.  Participants were sharing with us their individual stories connected with the new life in which they live after the war started. Also, they were very thankful for this opportunity to present their photos abroad.
You can find more photos from event here: shorturl.at/kOV57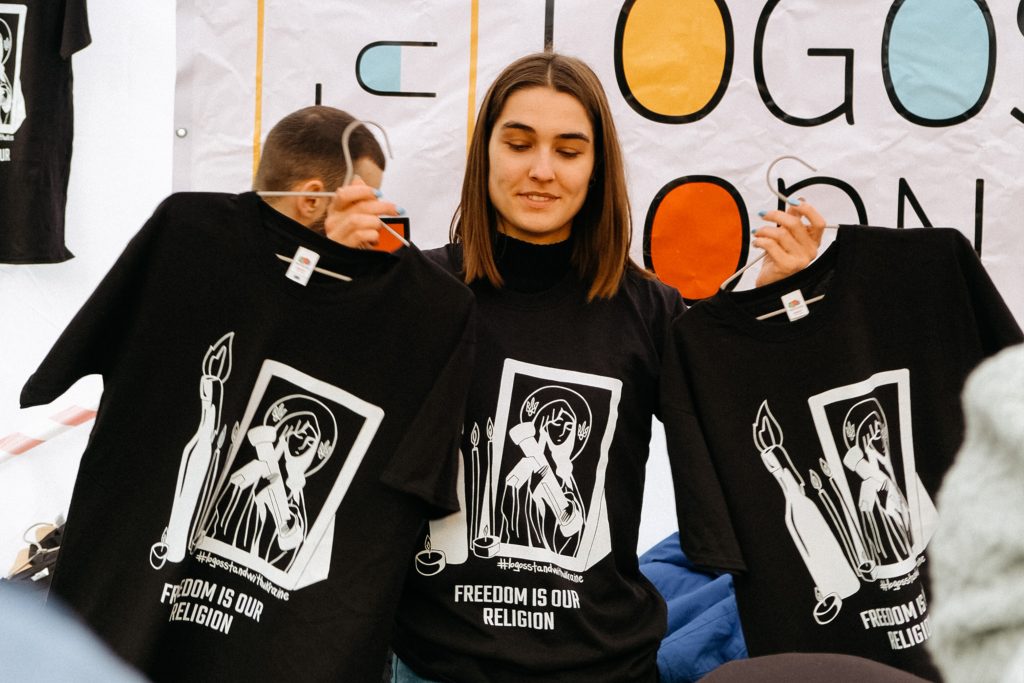 National Independence Day of Poland. November 2022
Together in Poznań on November 11th, we celebrated Poland's Independence Day under the main theme of "Act with kindness". The focus was on helping Ukrainian refugees in Poznań, as a gesture of gratitude for Polish aid.
We held an art workshop featuring watercolor, where we created small gift cards for our loved ones. We also invited people to join in coloring a painting with Ukrainian and Polish flowers and embroidery, showcasing the unifying power of art.
In addition, we printed 100 T-shirts and 20 posters with serigraph printing to be gifted to people who donated to Ukraine. Our belief in the independence and freedom of all countries, cultures, and people is at the core of our values.
You can find more photos from event here: shorturl.at/jOPVZ